3 Recipes Compared
3 Things To Do With...
At The Table
Big Night In
Eye Candy
Kandy Shop
Level Up
Lost And Hungry
Made Better
Made Personal
Mid Week Meals
Mystery Box
The Internet's Best
Ultimate Battles
Kimchi Pakoras, Gochujang Curry Leaf Mayo, Cheats BBQ Sauce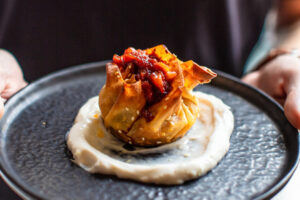 Kimcheats Caramel Roast Pineapple Tarts, Coconut Yoghurt
Roscoff Onion and Limousin Apple Tart Tatin
Wine Poached Fruit and Spiced Brioche Trifle
Taste France Choucroute Inspired Filled Buckwheat Pancake
Toffee Apple Pig In Blanket Balls
Olive Oil And Dark Chocolate Sundae
Mezze Platter - Olive Oil Bread, Dolma & Taramasalata
BEETROOT ARANCINI ROULETTE AND A WHISKY BRAMBLE PITCHER
DIY YUZU MERINGUE PIE AND A WHISKY HOLY BASIL MOJITO
KOREAN FRIED SWEET AND SOUR CHICKEN WITH SESAME STICKY RICE
CORN DOG-STYLE PRAWNS WITH GRILLED GEM MARIE ROSE SALAD
CHEAT'S COCONUT MINCE PIE BUNS
OYSTER SAUCE GLAZED TURKEY DINNER WITH SESAME POTATOES AND VEG
SOY SALMON AND BRAISED CABBAGE TARTLETS
SWEET TOMATO AND BASIL CHEESECAKE
TOMATO & WATERMELON RED CURRY PORK RIBS WITH A TOMATO KOMBUCHA PAK CHOI SALAD
LAMB DONER KEBAB AT HOME WITH GREEK-STYLE FRIES
LAMB KOFTAS WITH GREEK SALAD AND TZATZIKI
SPELT CARROT & FENNEL CAKE WITH WHEAT BEER CARAMEL, CRISPBREAD AND BLACKBERRIES
BEEF, WHISKY AND PORCINI SUET PIE
Uh oh! That search hasn't turned up any recipes. We better get cookin'! Please try again.